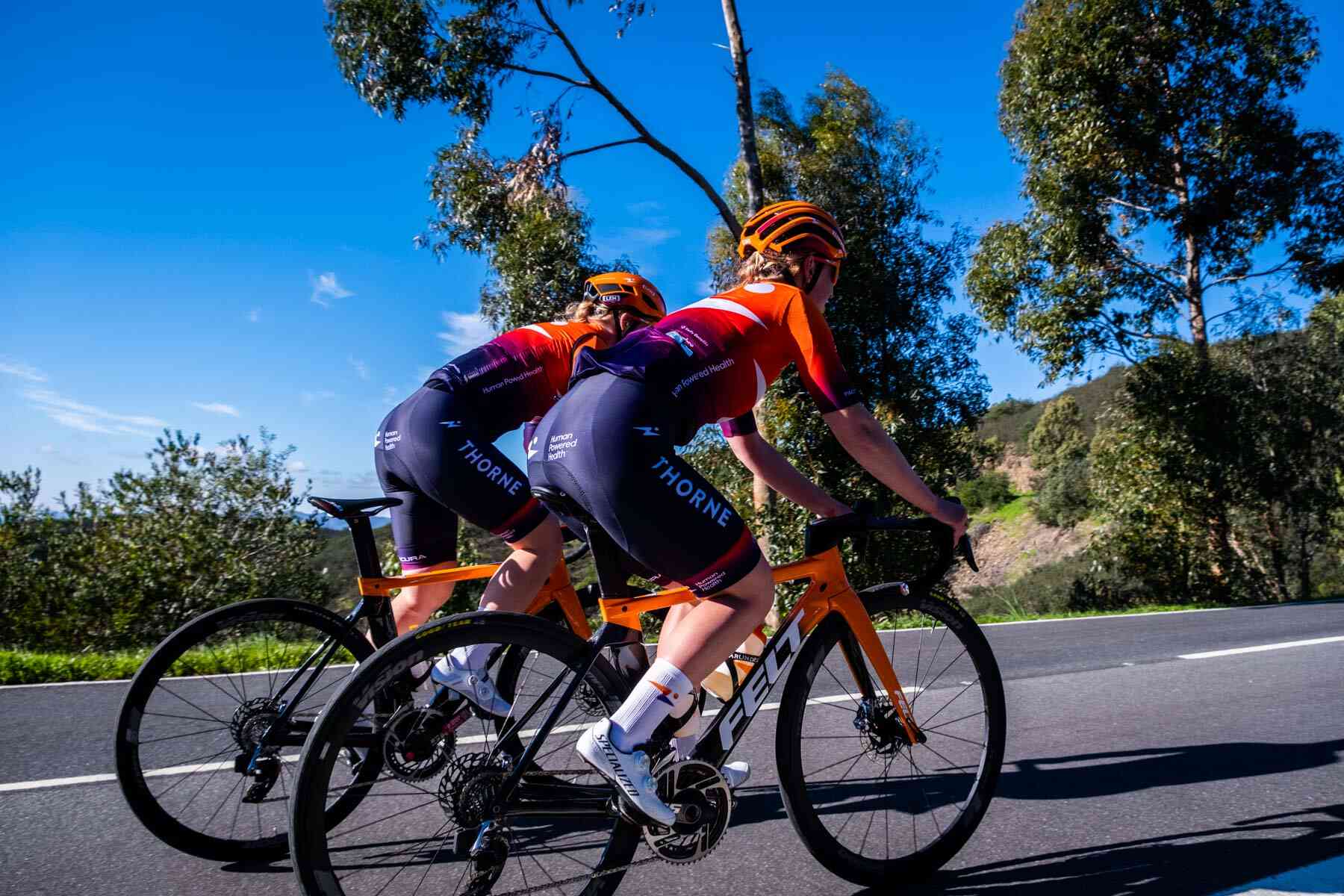 Our cycling bibs have been developed for a wide variety of uses and conditions; from all-day adventures to cold weather rides and weekly club rides.
Additional customizations are available on some of our bib rises such as navy blue, black or fully-printable. Find the custom bib that works best for your team or club.
All of our bibs have been designed with proprietary Silhouette™ articulation and contoured seaming for the riding position.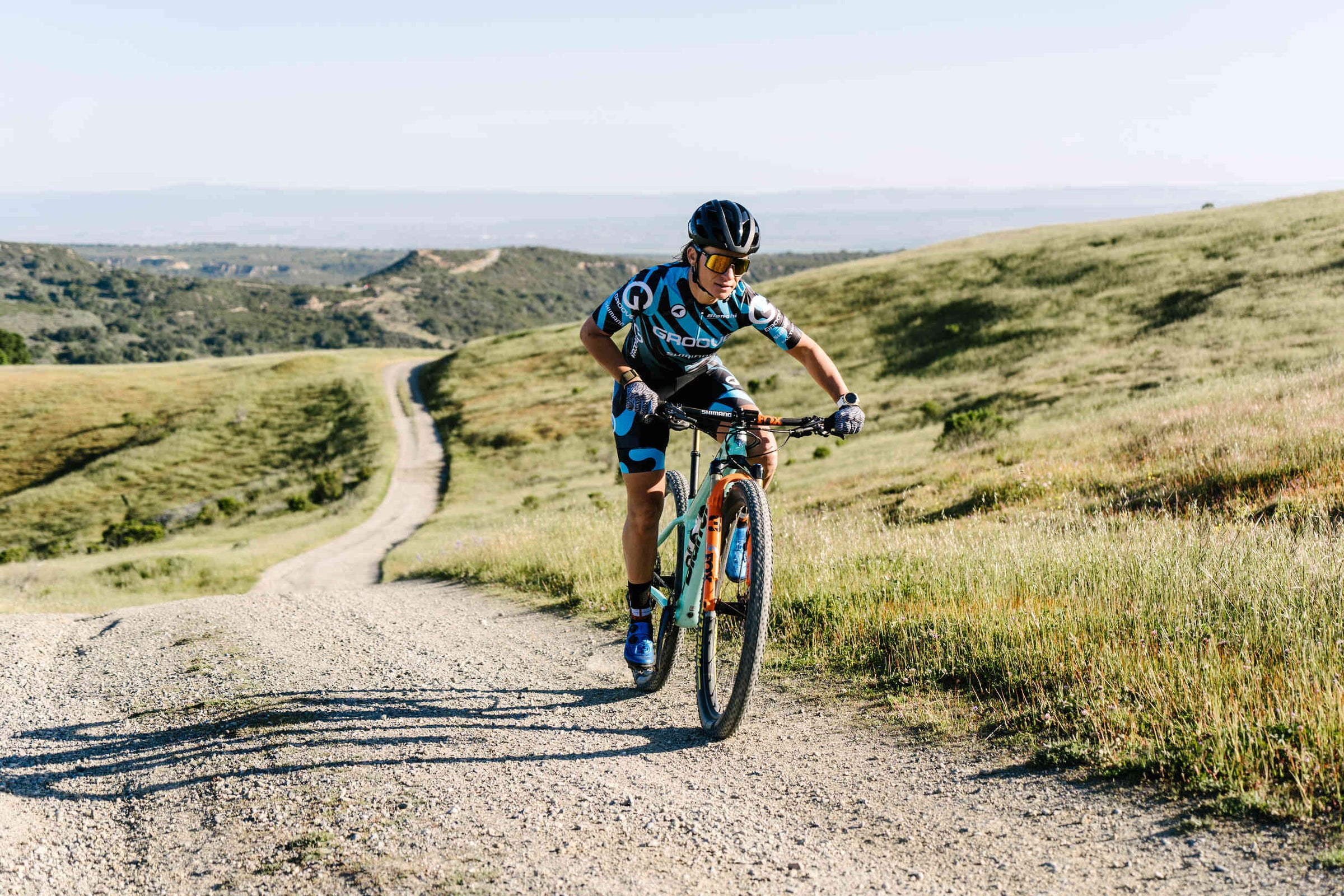 Bibs perfect for those tough and long training days.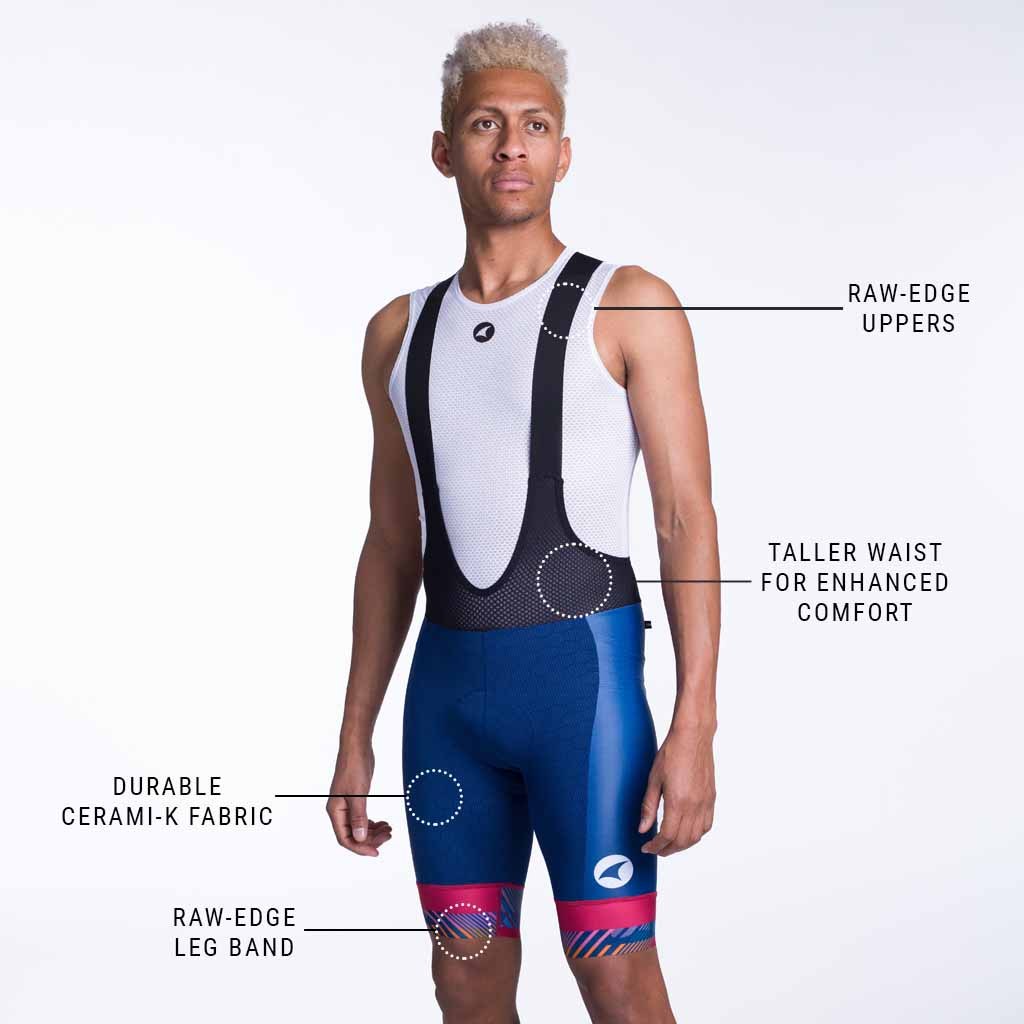 Summit Stratos Force Bibs
Guaranteed comfort on extreme adventures and races. Cerami-K fabric (recognizable by the honeycomb dot pattern) is extremely durable and excellent at moving heat away from the body during maximum exertion. Customizable, silicone printed, raw-edge leg bands provide excellent grip and a seamless aesthetic.
Choose between a navy or black rise and standard or long length.
Experts at Elastic Interface®, custom developed the Road Performance Force Hybrid chamois to deliver optimal comfort and minimalism with a "risen-effect" and varying foam densities to offer superior support.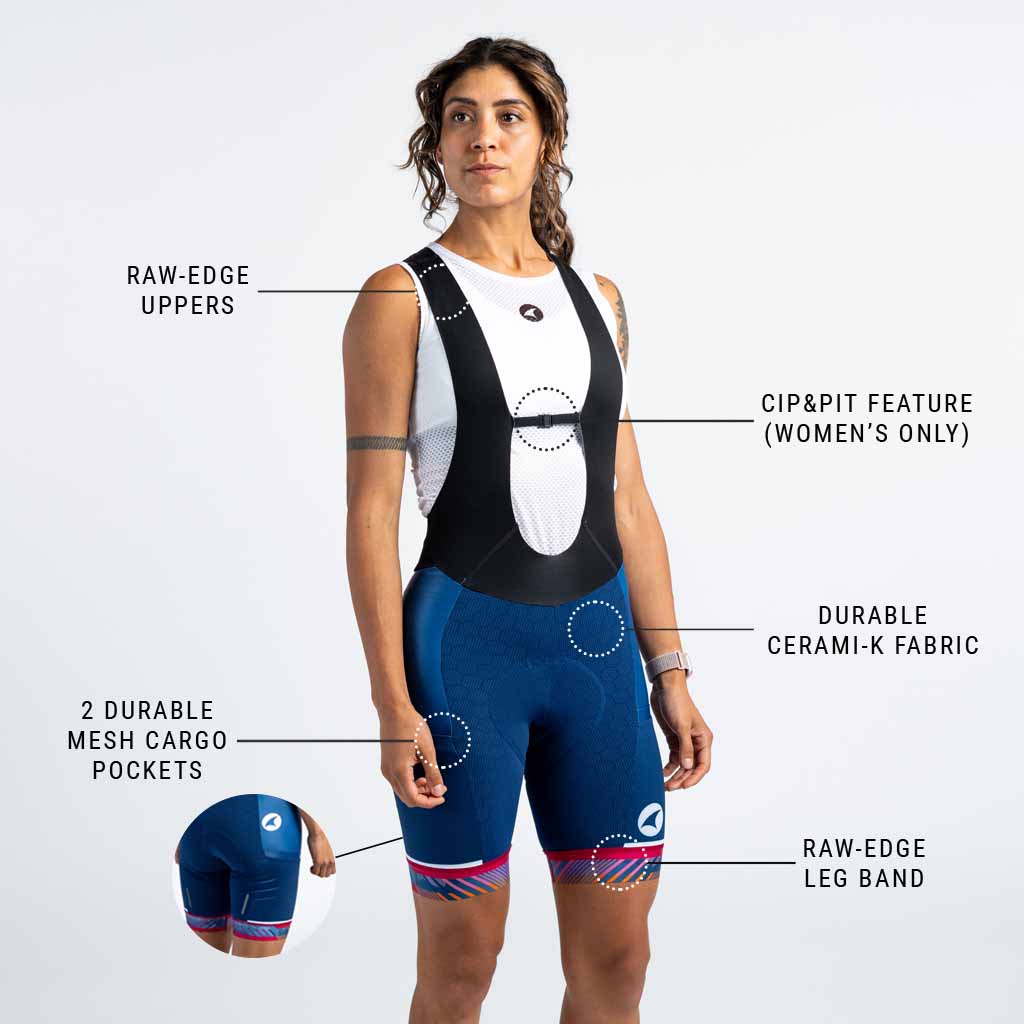 SUMMIT STRATOS RANGE BIBs
These bibs are the same as our beloved Summit Stratos bibs with the addition of pockets to haul additional cargo. A large, stretchy mesh pocket on each of the thighs allows for easy access to snacks or necessities during long distance rides.
The men's design includes 2 extra pockets in the back, along with a loop to secure a mini pump. Our Clip&Pit™ technology is included in the women's bib. Choose from a black or navy rise.
The Road Performance Force Hybrid chamois stands out as a unique long-distance pad, featuring two crucial innovations. The combination of diverse foams and its "risen-effect" to create the appearance of a custom thermo-molded pad.
Flyte Bibs
Our Flyte Bib is comprised of light to midweight recycled fabrics that are compressive and aerodynamic. The raw-edge cuts make for a nearly seamless experience that transitions smoothly to your leg.
The uppers on this bib are designed for absolute minimalism and functionality. Around the waist, you'll notice our super light mesh for a comfortable fit and extra breathability. The back uppers include 2 radio race pockets. Choose from fully-printed or black rise.
The Road Performance Force Hybrid chamois from Elastic Interface® was custom developed to deliver optimal comfort and minimalism.
Ascent Vector Pro Bibs
Similar to the Ascent Vector Bib, the Pro is made with recycled fabrics that is moisture-wicking, durable, and provides a compressive fit. Light, recycled mesh and recycled double-knit uppers lay flat and provide a sense of absence on the body. The Pro model includes more of the raw-edge material in the uppers than our standard Ascent Vector bibs to create more refined aesthetic.
The Pro includes our Elastic Interface® Road Performance Force Hybrid chamois, which has typically been found only in our Summit level bibs. This chamois delivers an optimal combination of comfort and minimalism with a high-performing pad and smaller footprint.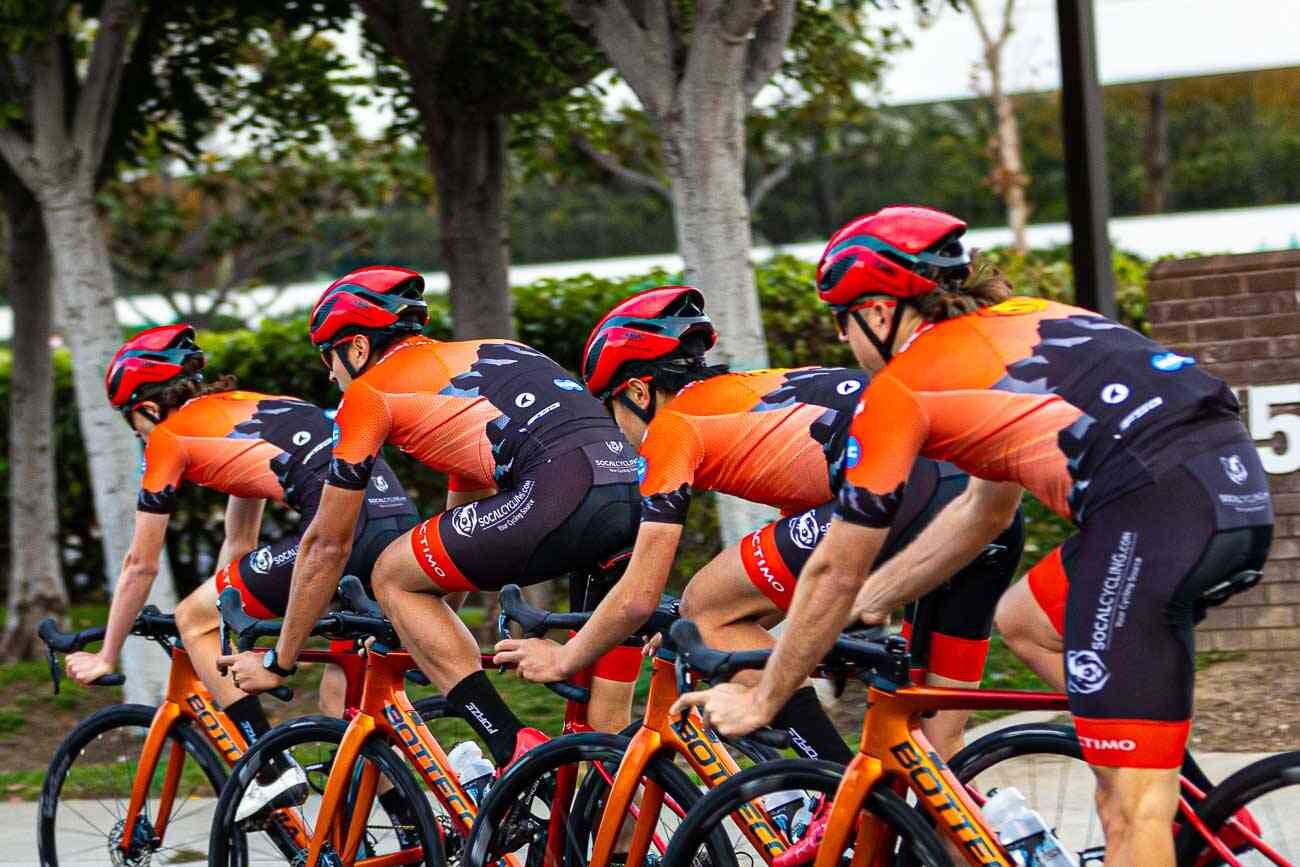 Bibs great for everyday use and every level of cyclist.
Ascent Vector Bib
Everything you love about the Ascent Vector Range Bibs, without mesh cargo pockets. Flash Technology fabric helps push perspiration away from the skin, to help you stay cool on hot, summer days. Stretchy, mesh uppers are breathable and stay in place.
Choose from standard or long length.
The Italian-made Elastic Interface® Paris chamois provides more coverage all around for increased comfort and reduced chaffing. Perfect for medium distance rides.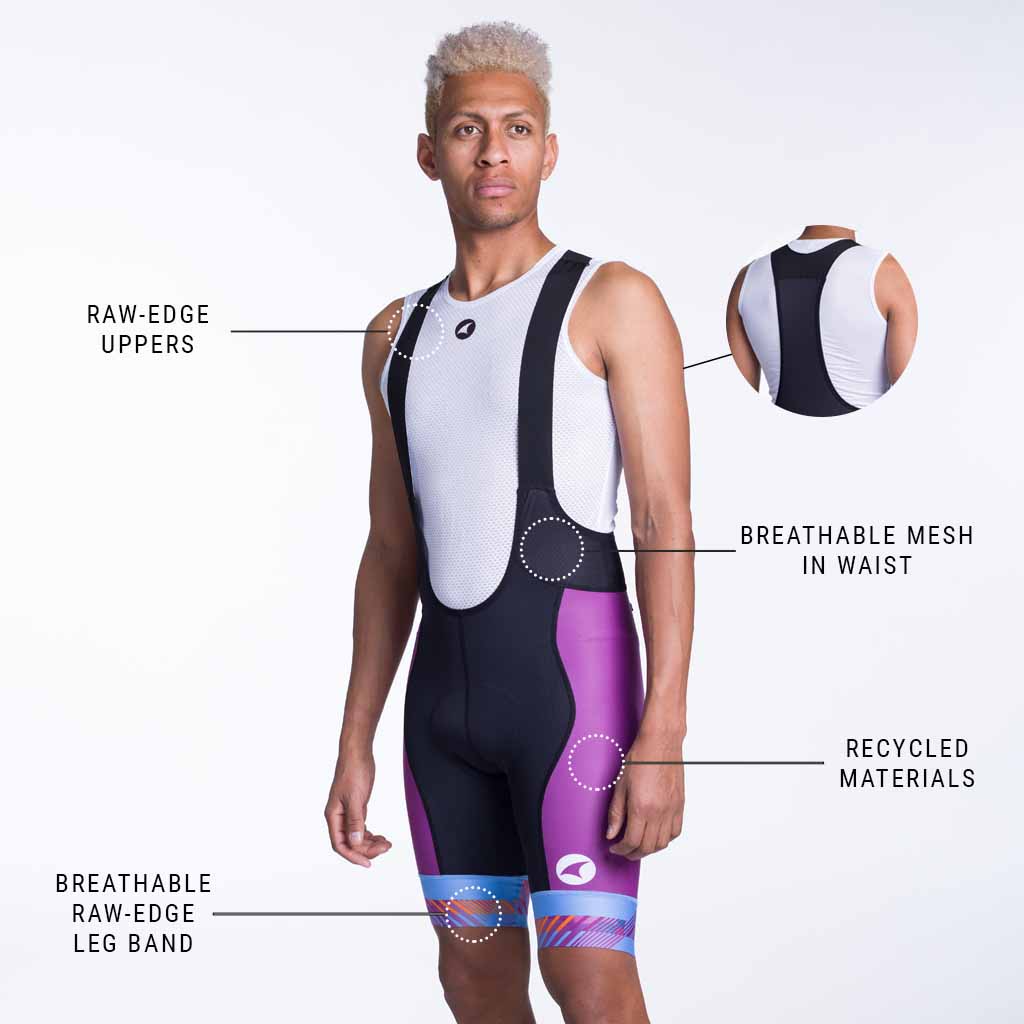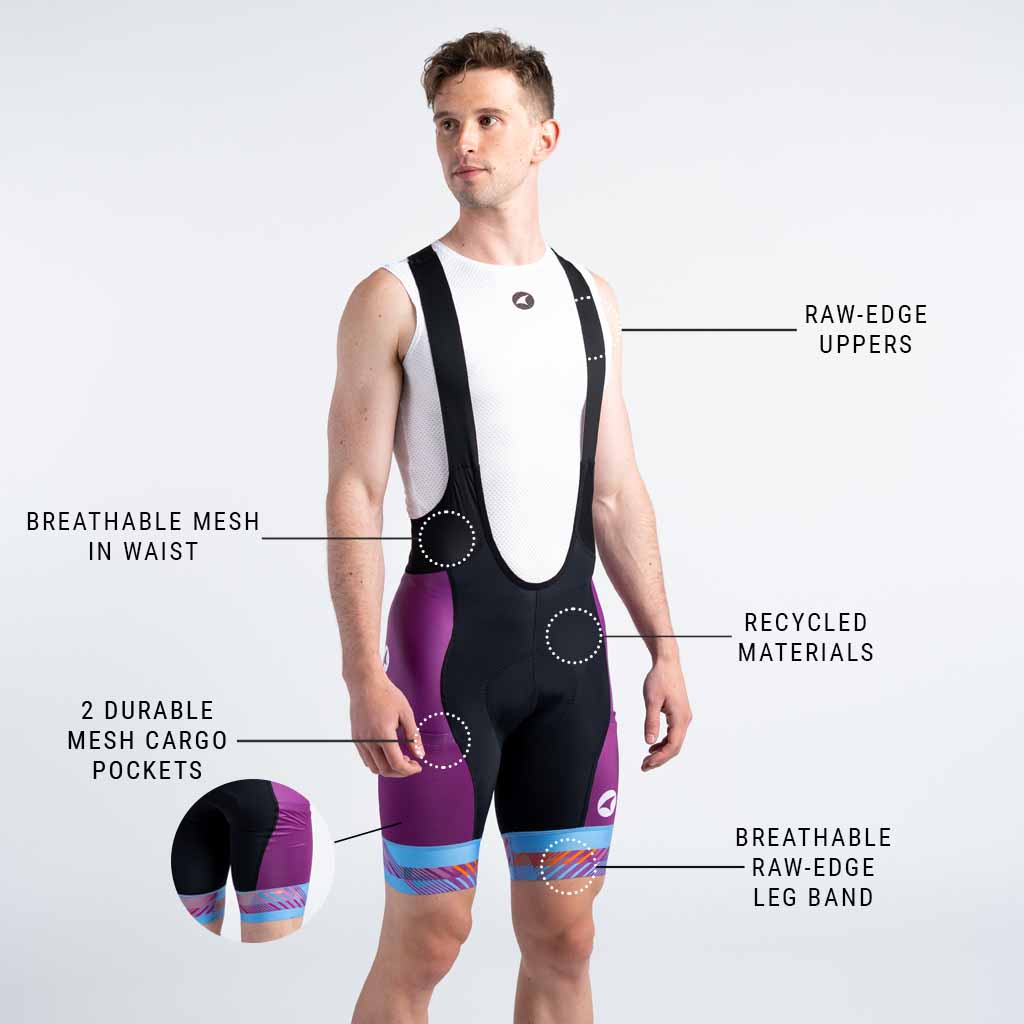 Ascent Vector Range Bib
Complete with 2 stretch-mesh pockets, one on each thigh, for hauling assitional cargo and necessities on your next adventure. This lightweight, traditionally lycra-feeling bib performs well in a variety of conditions.
Flash Technology helps regulate body temp on those hot sunny days.
The Italian-made, Elastic Interface® Paris Chamois offer dual-density protection making it comfortable for both road and off-road activities.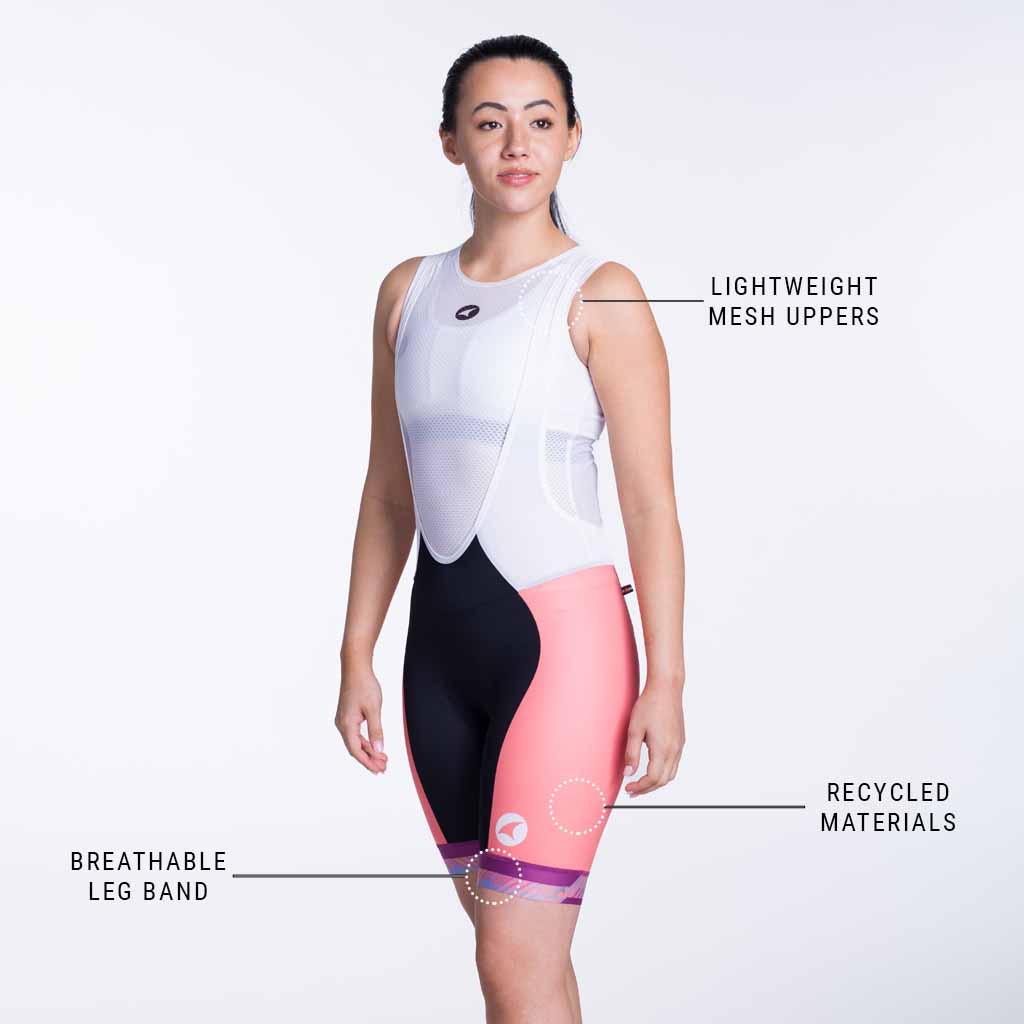 Continental Bib
Our Continental Bib is perfect for the new cyclists or those wanting a high-quality bib for medium distances. Constructed with fabric that is made from 100% recycled materials and is incredibly breathable and comfortable.
The Continental Chamois is a single density foam perfect for rides of 2-4 hours in length. The thermo-molding of the Italian TMF chamois allows for it to comfortably conform to your saddle and body for a close and consistent fit.
Thermal bibs and tights with supreme weather protection and warmth.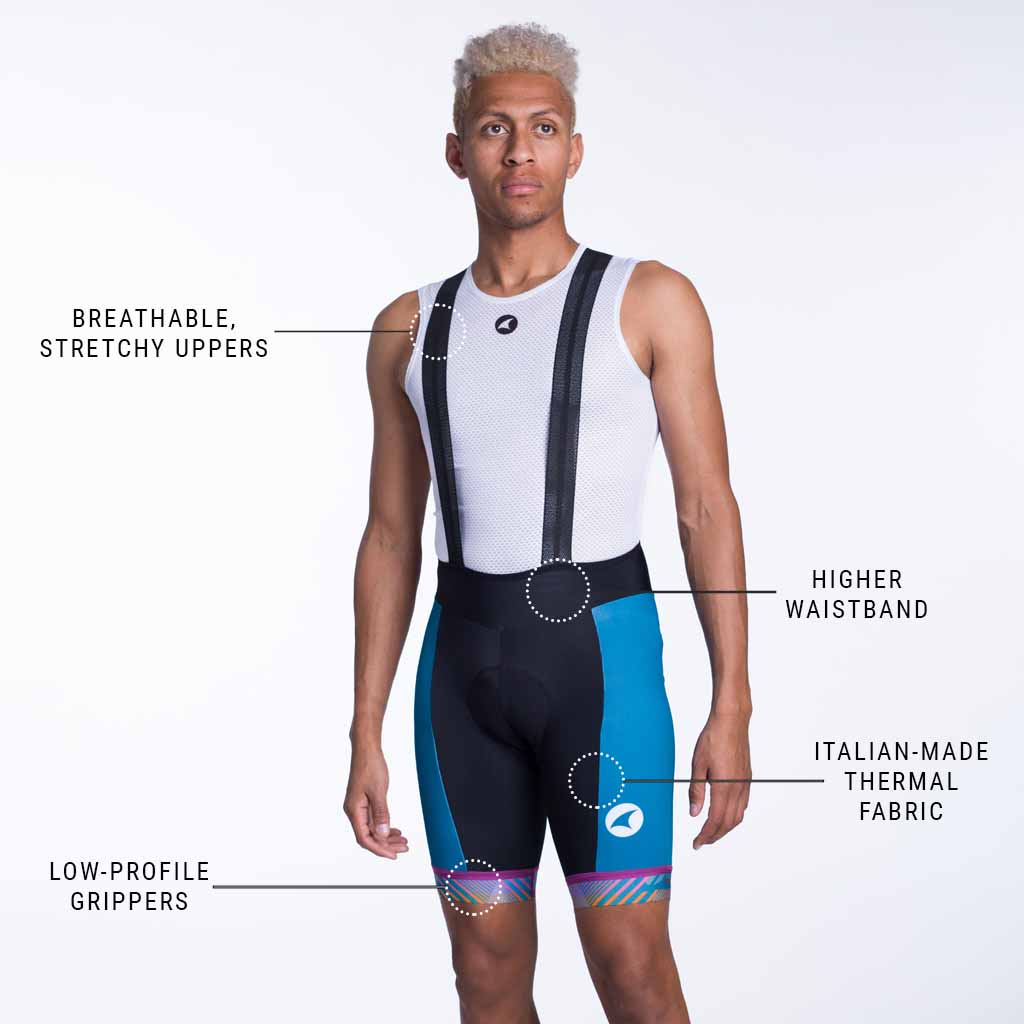 Alpine Thermal Bibs
These thermal bibs are great for shoulder seasons, brisk commutes, or early morning training with temperatures between 15° - 60°F. Great for those wanting the versatility of thermal bibs with leg or knee warmers.
Elastic Interface Liege carbonium chamois.
The Elastic Interface® Liege Carbonium Chamois is made in a special microfiber with Carbonium thread, developed to guarantee good protection thanks to its dual densities construction. Foam inserts are shaped to be minimal and the top layer in contact with the rider is entirely smooth.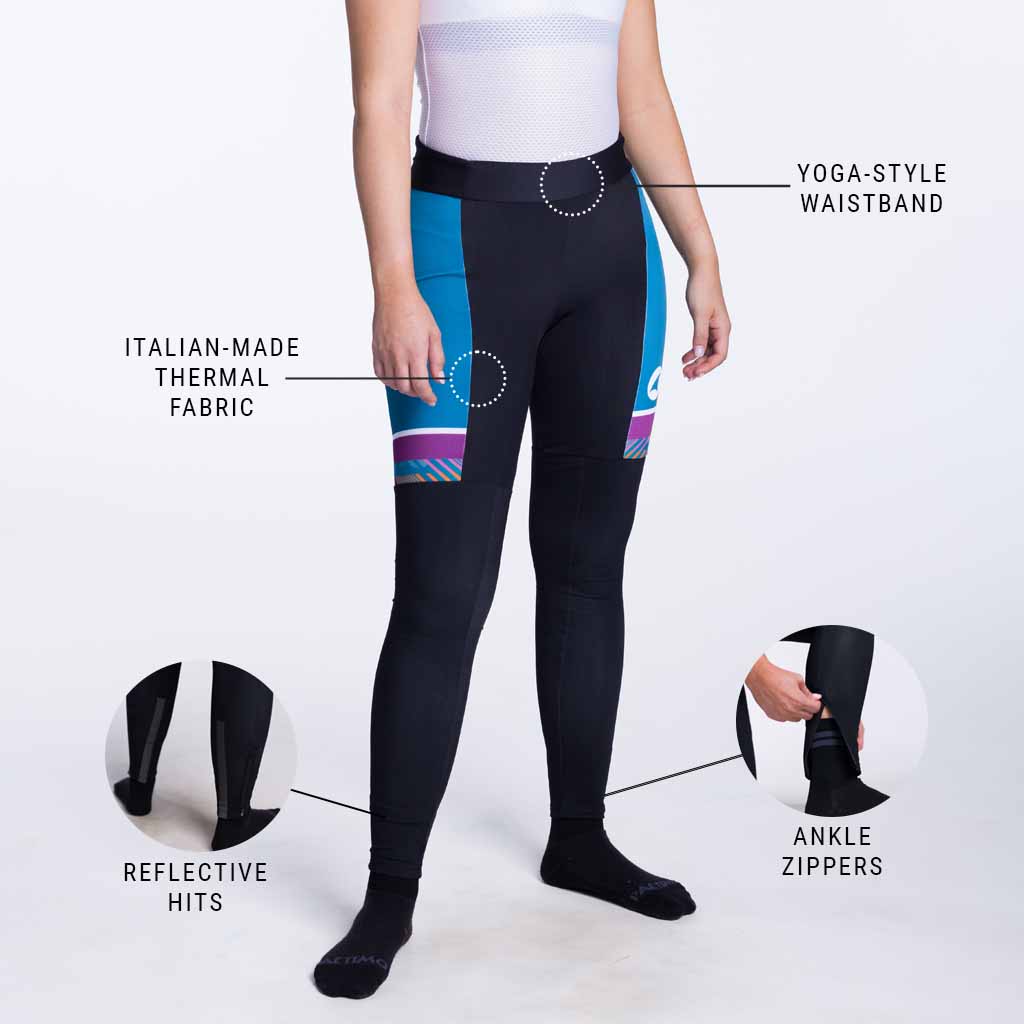 Alpine Thermal Tights
Our Alpine Thermal Tights are designed to easily slip on over summer-weight shorts or bibs to provide a mid-weight, brushed layer of warmth for chilly rides.
Ankle zippers allow these tights to be easily removed, even with shoes on. Reflective hits (350+ lumens) on the hip and calves allow for higher visibility in low-light conditions.
Please note, because these tights are made to go over existing bibs or shorts, they do not include a chamois.